Content Marketing Portfolio and Campaign Results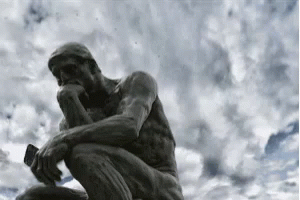 I've gathered some information to address the questions you asked about my experience and results. I hope this page delivers the infomation you need to assess my suitablity for the Senior Content Marketing Strategist role on your team.
Campaign Highlights:
Product and Service Launch Campaigns:
Rogers Communications (Fixed-Term Contract) -
Rogers Unison for Enterprise product launch, May - October, 2016
As a copy and content writer in the Rogers Digital Enterprise Business unit, I was involved with many aspects of the second go-to-market phase of Rogers Unison. Unison is a cloud-based Unified Communications as a Service (UCaaS) platform, similar to Microsoft Teams.
The project team I was on won 2016 Team of the Year recognition for the Rogers Digital division. I left just after the launch of the service, as my contract had a fixed end date. This project took place seven years ago, however I worked on a global team of Rogers and 3rd party contractors around the world, so I thought it was worth including.
Content assets created - UX copy, video scripts (see below), blog posts, marketing/product landing pages, usability testing, and soft phones guide support copy.
---

Util-Assist - SecureAssist service launch and website re-engineering
Util-Assist, (U-A) a subsidiary of Alectra Energy Solutions is an IT consulting company in Newmarket, Ontario. As a marketing communications specialist, I was tasked with a refresh of their website's information architecture, and creating new service pages for U-A offerings, including SecureAssist (a 24/7 electricity substation surveillance service).
I worked with the Senior Director of Marketing and Communications and our partner Systems with Intelligence on creating web page copy and a press release for the service. The marketing content was created during my time at U-A, our parent company Alectra delayed the launch of the service while they completed a proof of concept until after I left the company. I wrote the web page and brochure (attached below) copy for the service.
I also came up with a number of ideas to improve the U-A website navigation and user experience. I worked with a local digital agency to improve the navigation of the site, including improved menus and implementing rotating headers with buttons for the company's professional and managed service lines. I also recommended and created richer, more insightful product pages and blogs to improve the discoverability of the website.
---
GEOTAB - Fuel Conservation ebook Campaign
In 2022, when fuel prices rose sharply due to global conflicts and supply chain issues, the Geotab product marketing team was tasked with rapidly producing thought leadership assets for fleet centric businesses across North America and worldwide.
I recommended and led (wrote the copy and collaborated with a graphic design agency) the creation of an ebook, editing existing blog posts, and writing a series of customer and partner email newsletter and social media posts for LinkedIn, Facebook, and Twitter. The ebook was downloaded about 4,500 times in the first couple of weeks after promotion.
I worked with industry, product, and marketing managers on prioritizing the points we wanted to cover, the solutions we wanted to highlight, and customer case studies to highlight in the various marketing pieces. The cornerstone ebook of this campaign is below, just click on the image.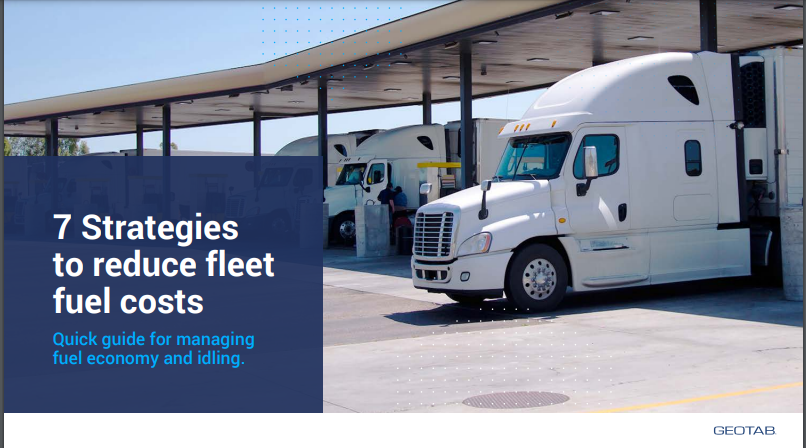 Data Quality Proof of Concept whitepaper and promotion campaign
At GEOTAB, I also acted in a lead writer project leadership role in rewriting, editing, and publishing a white paper that featured a data quality proof of concept for GEOTAB's largest customer. The test entailed a professional drving a delivery truck navigating around a race track at high speeds, and using our tracking devices and those of a few competitors to benchmark our device's accuracy vs those programmed with other data algorithms.
The whitepaper was downloaded about 3,500 times in the first month of availability, exceeding the engagement goal by 30%. The report was stuck in internal, partner, and customer reviews for three years after the proof of concept before I took ownership of its completion.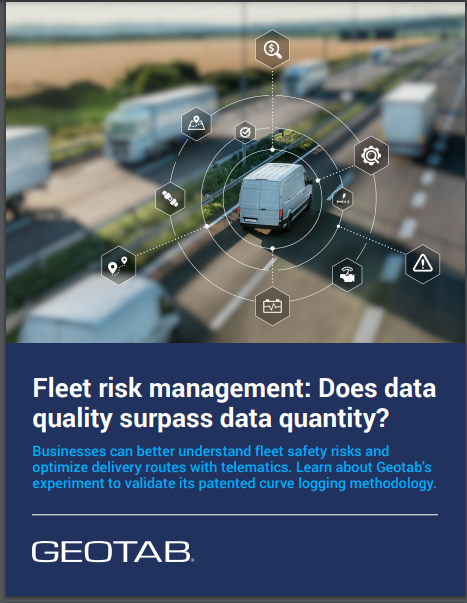 ---
Fleet Complete - Customer Migration Campaign - FC Web/Desktop to FC Hub
My first campaign initiative upon joining Fleet Complete was to create a series of website and email content assets to drive customer migrations from Fleet Complete's legacy platforms to their next-generation FC Hub and Insights Solution Suite solution.
I wrote landing page copy, email copy and brochure copy to get customer buy in for a full-service migration to FC Hub. The beginning of the campaign was somewhat slow (by design due to capacity) as customers were educated about migration benefits, although migration opt-ins escalated over three months from about five per week the 250-500 per week.
Please click the image below to jump to the sales enablement asset. I wrote and edited the content of this brochure, I didn't have final say over the graphic design. I wasn't a fan of the red line before All-In-One Platform, but I was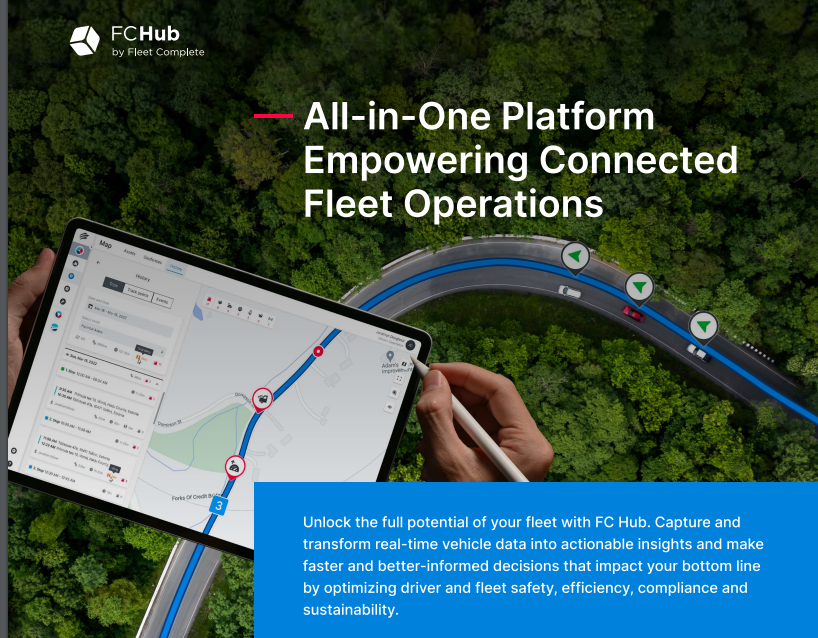 - FC Web/Desktop to FC Hub and Sales Enablement Campaigns
I also created a series of brochures, blog posts, email campaign copy and ROI sales decks for FC Hub and FC Vision, a complementary AI-powered video dashcam solution. I also wrote script copy for the explainer video below about the benefits of FC Vision, and co-ordinated a series of tutorial videos about our products featuring our CEO, Tony Lourakis.
Among my most successful blog posts were a fleet management trends article which ranked in the top 5 on Google for six months, and another about fleet electrification which also ranked in the top ten on Google and received broad sales, partner, and executive recognition. These articles were published under our CEO's name for authority purposes. I also collaborated with the Senior VP of Marketing on the PowerPoint deck below about the ROI of video telematics.
The sales team used these sales enablement assets to close a record number and volume of Vision dash camera sales for two consecutive quarters in a row, 950 and 1,200 units in Q3 and Q4 FY2023 respectively.
Content Creations: Include samples of your content creations such as blog posts, social media content, videos, graphics, or any other relevant materials that demonstrate your creativity and communication skills.
<<Mark>> Many samples are included above in context, and for more examples, visit:

---
2.Collaborative Projects:
Internal collaboration examples:

Xe.com - I led the launch of a new B2C and B2B blog site, and acted as the global lead writer for North American articles. I wrote page copy related to a website refresh as it merged with its "sister company" HiFX under the ownership of EuroNet International. I also created concepts and content to promote our newest mobile apps for money transfer and foreign exchange data.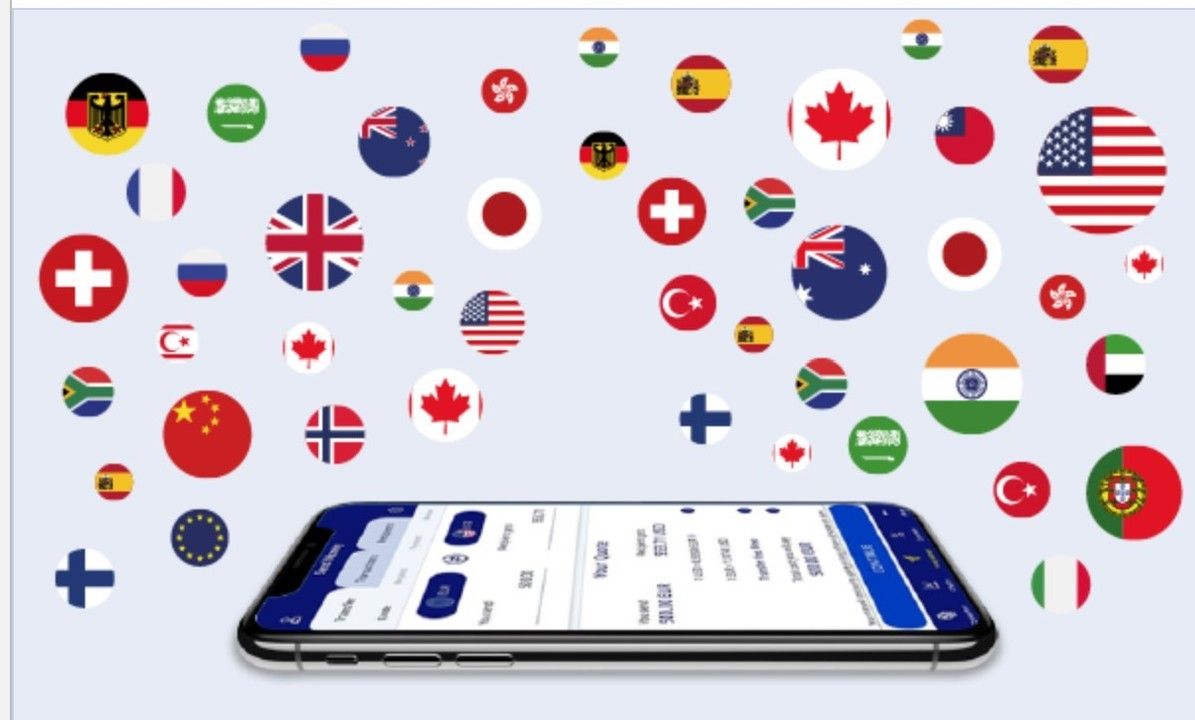 I worked with Xe.com stakeholders including the CEO of the company, the Chief Marketing Officer, the Global VP of Marketing, and marketing executives in the UK, Australia, Los Angeles and Toronto. We created new pages for online money transfers, mass payments and foreign exchange data services.
---
Util-Assist - I collaborated on content strategy, creative ideation and execution of information architecture, new web page and content assets with a local digital agency, RC Digital, U-A marketing and business development executives. I collaborated with Alectra Utilities executives on utility rate plan whitepapers.
---
Geotab - I collaborated with a design agency, (Appetite for Creation/A4C) product managers, industry subject matter executives and our data labs leadership team on a series of blogs, whitepapers, and ebooks. I also worked with our content marketing coordinators and SEO managers on getting blog posts published and SEO-optimized for discoverability.
---
Fleet Complete - I worked with colleagues across Customer Success and Support, Product Management, HR, Finance, and Sales Enablement to create digital assets across all marketing channels. I also worked with our carrier partners at TELUS, Rogers, and AT&T to create and refresh campaign-based sellsheets, email messaging and press releases.
---
MediaEdge - I am currently working on a contract basis with a digital media and event management company in Toronto to create educational content for commercial building operations managers about subject matter related to heating, ventilation, air conditioning and smart buildings. I am working with industry subject matter experts from MediaEdge, commercial real estate property management companies, major HVAC service providers, and university executives from Carlton and Queens Universities.

This project is for a project called MECRealLearning, a marketing and career accreditation program for commercial building operations professionals. I am writing and publishing assets on a Learning Management System from D2L. I am interviewing subject matter experts across Canada and writing and editing the copy for certificate course content.
This project is very innovative as it will help make building operations professionals more effective in their roles, and fill a recognized knowledge gap in Canada's commercial real estate industry. I am one of four editors on this project, scheduled to end in November, though the content writing and editing should end in September.
---
Innovative Initiatives:
GEOTAB Fuel conservation ebook.
I came up with the idea of creating the ebook about fleet fuel conservation which is included above, as a way to reuse and refresh some of our existing copy on the topic. Fuel costs are the biggest expense for most corporate and institutional fleets, and the rapid increase was (and continues to be) a hot-button issue.
Fleet Complete "Business Case in a Box" email campaign
I created an email asset for our sales team to send to customers which provided prospects and customers with an email template which laid out critical business case elements.
Whether they shared the business case template with their boss, their company's fleet manager or Chief Operating Officer, the email was a sharable asset that highlighted the primary benefits of our solution, ROI highlights and other factors which could help an email recipient become our internal champion with minimal effort.
---
Project Management and Campaign/Marketing Asset Request Intake:
Championing Microsoft Planner and Forms for Marketing and Technical Writing Teams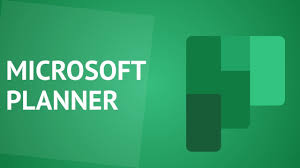 At Util-Assist, our Senior Marketing and Communications Director was seeking a way to better manage and have visibility to marketing, sales pursuit/proposal writing and technical writing projects in the workflow pipeline.
I evaluated platforms like Monday.com, Trello and Asana, but ultimately determined that Microsoft Planner best met our workflow tracking needs. I set up the system for our department, and it immediately improved manager and executive-level project status visibility as our team worked remotely across North America during the pandemic.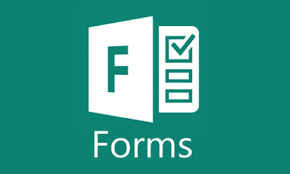 I also recommended Microsoft Forms as a way to gather internal and external communications and marketing request from our colleagues across sales, finance, IT, and other departments. This streamlined our processes, and both of these applications worked well with Microsoft Teams, as a remote work strategy as the pandemic progressed. I created the forms and set up management controls for the request submission workflows.
Due to the success of these projects where I worked with Microsoft 365 subscriptions Util-Assist already owned, I suggested Fleet Complete do the same. I created the forms and project tables, however this project was put on the backburner until I left.